After removing the surface rust I set out to inspect the machine the best I could. The machine has boxways on Y and dovetail ways on X and Z. The ways and screws looked fine on all three axes. Here's a couple of random photos: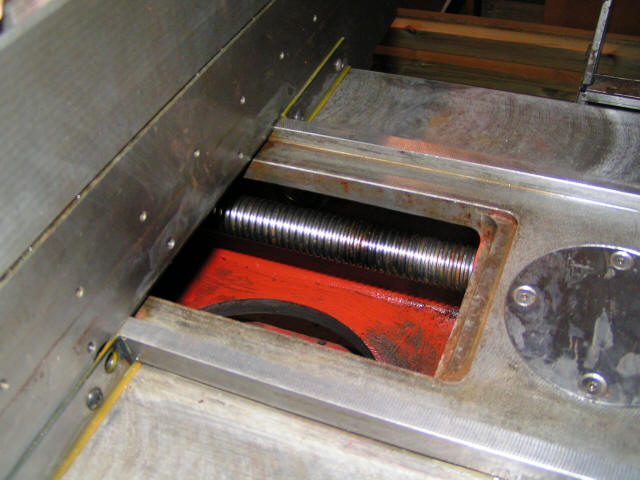 This is the Y-axis ways and ballscrew, the red/brown junk isn't rust it's just old oil and grease....
The next photo is a closeup of the X-axis ballnut. The screws are 32mm in diameter, 5mm pitch on all axes and are made by Rexroth/STAR.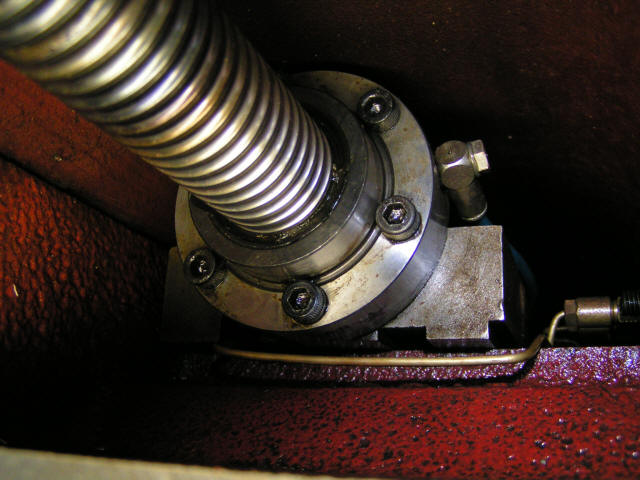 As you hopefully can see in the next photo I was able to get the rust on the sides cleaned up pretty good: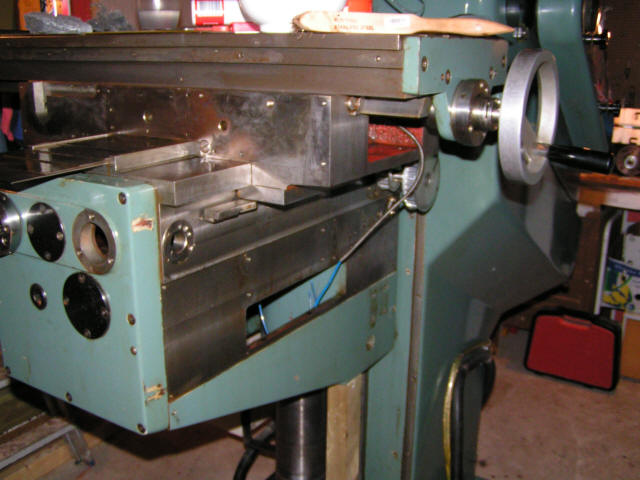 Here's another shot of the left side of the X-axis with the bearingplate removed. You can see one of the manifolds for the central lubing system: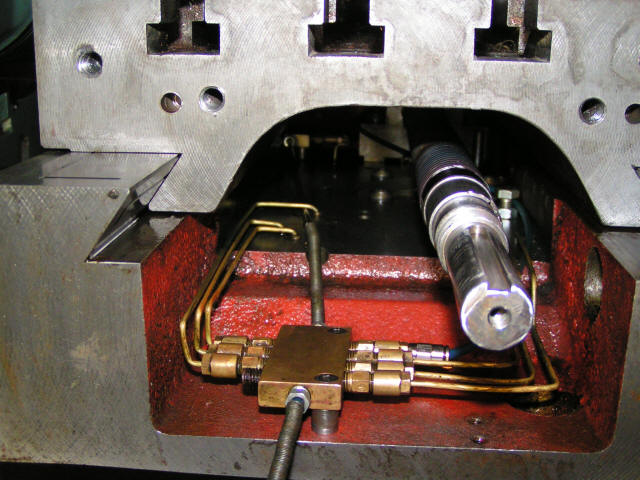 And here's a shot of the spindle gearbox. The spindle, by the way, is a SK40 DIN2080, has 12 speeds between 44 and 2000rpm and the motor is 4.5kW (6HP). It will eventually be controlled by a Siemens Micromaster VFD.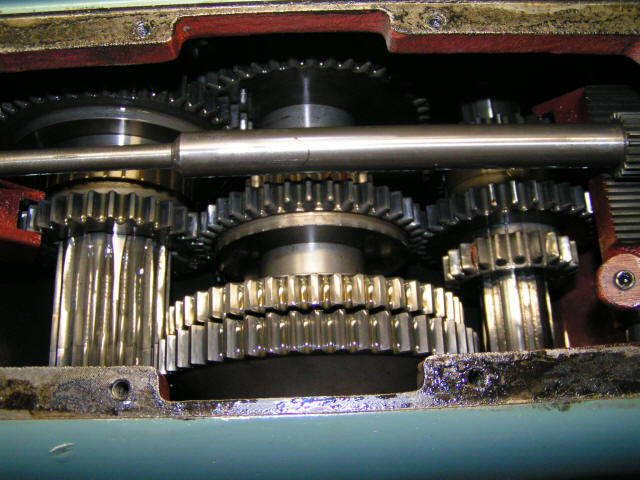 Quite early in the process I discovered a problem with the Z-axis. The bevel gear that drives the Z-axis ballscrew was slipping on the shaft so I had to take that apart and fix it. I bought an engine hoist and started by removing the table to gain better access as well as reduce the weight of the knee a bit: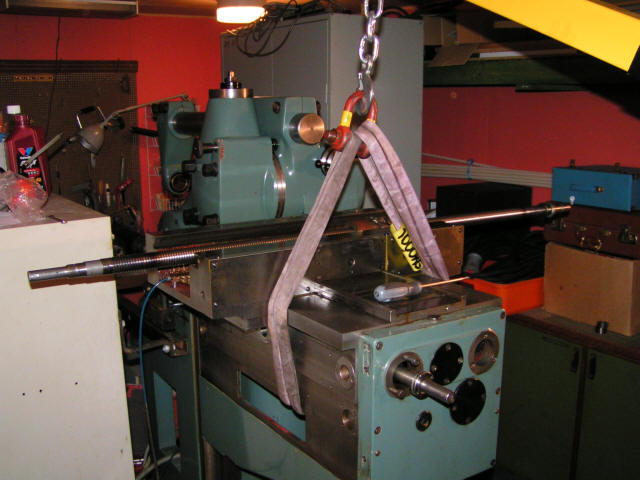 Once I got the knee lifted (and supported) high enough I was able to slip down the telescopic covers, loosen the ballscrew at the top end and thread it down into the "leg" of the knee.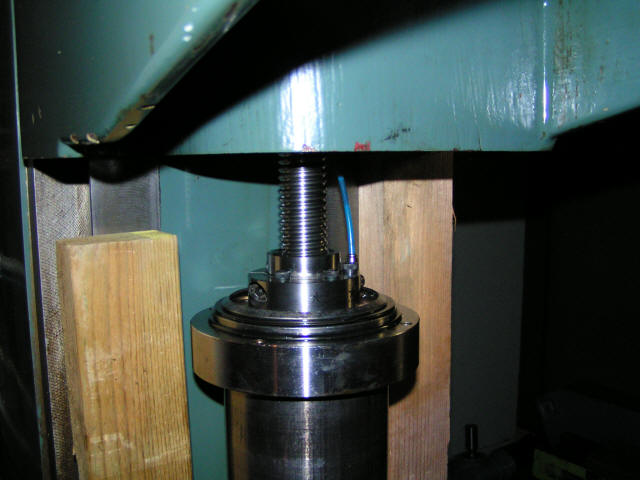 After that I could remove the whole screw jack from the base of the machine. Once that was done it was easy to spot the problem: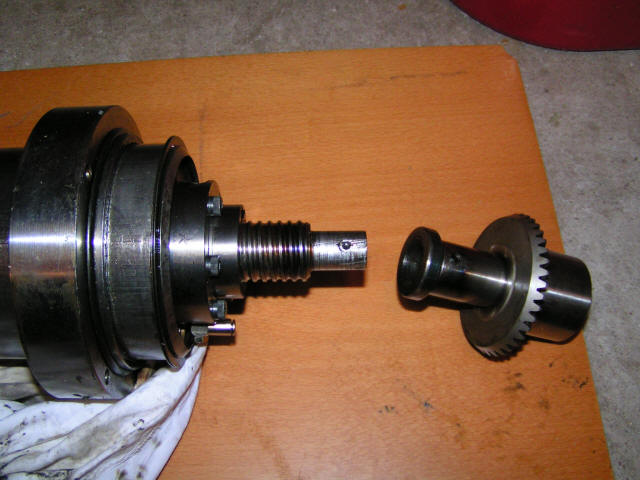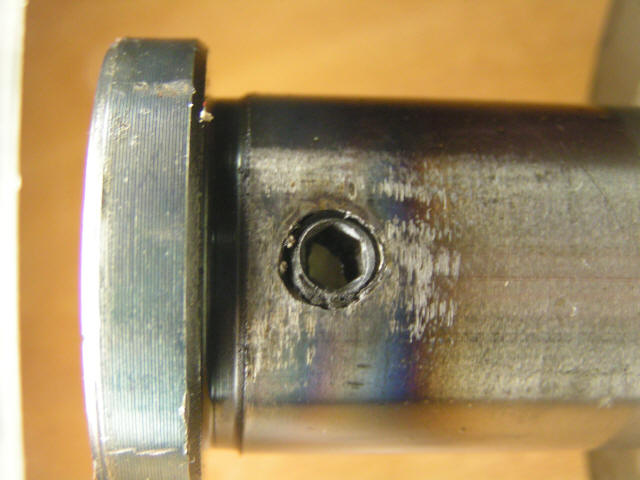 As you can see the only thing holding the end of the shaft to the ballscrew was a single set-screw. It was also burried so deep in the shaft (in order for the gear to fit over it) that it more or less became like hollow pin instead of a solid screw. I replaced the setscrew with a conical dowel pin going thru the extensionshaft and ballscrew from one side to the other. Hopefully it will hold up much better than the set-screw.
Here's a shot of the sadle with the table removed: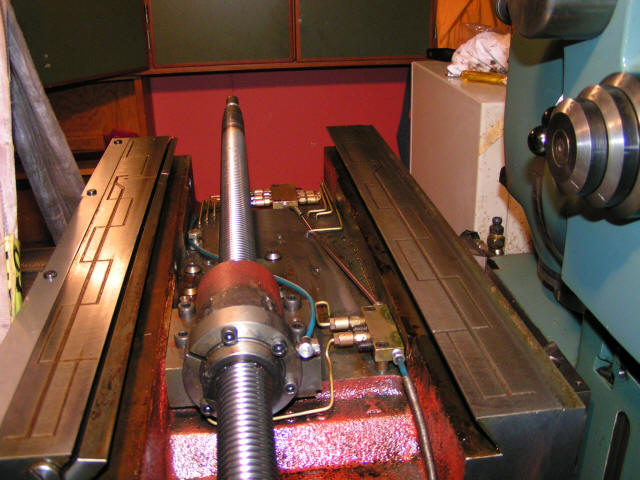 While having the table removed I figured I might as well get some paint on that bare metal on the sides of the machine, here's the basecoat applied:
And here's the same view with two out of three layers of paint. I brought one of the bearingplates with me to the store for the guys to match the new pain against. They did a pretty good job.