CNC - Abene VHF-3 - Delivery
I had quite a bit of trouble with the company I hired (Schenker BTL) to move the machine. They where supposed to pick it up on a friday but didn't show up so the machine sat outside, in the middle of the winter for 6 days before they finally came and picked it up. Every day I was promised that they would pick it up but it just never seemed to happen. It was a nerve wrecking and quite expensive experience to sit 500km away and not really be able to DO anything except talk to people over the phone. When the machine finally arrived it turned out that they couldn't deliver it to my adress so I had to hire (and pay) another company to lift it off Schenkers trailer and deliver it to my doorstep, thank god they did an excelent job at a VERY short (1 hour) notice. I was quite worried that it should be in bad shape once I got it but fortunately it wasn't too bad.
Here's a couple of photos taken when lifting the machine.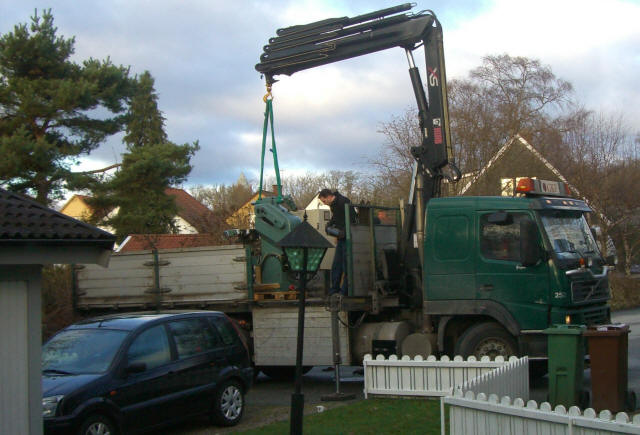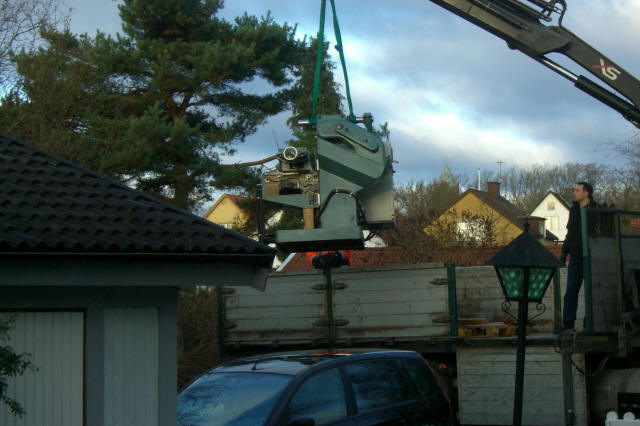 As it was sitting outside for 6 days there was 'some' surface rust on the bare metal parts. The guy I bought it from had covered the slideways etc in oil so they where quite OK but he missed the sides which for some reason had been stripped from paint so it looked pretty bad: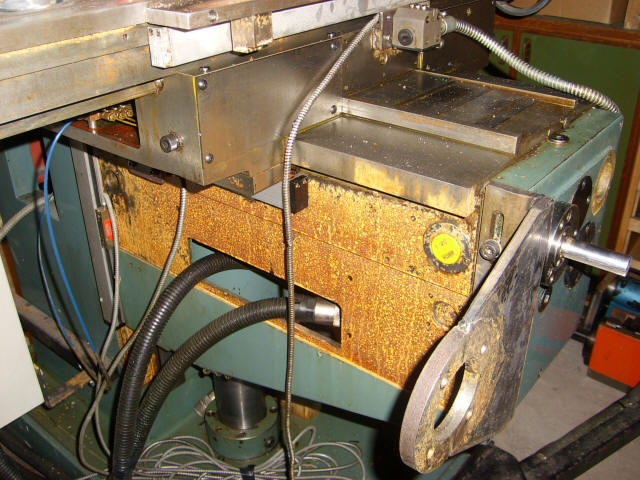 Since the machine arrived litterally just hours before I was going for a two week vacation we just rolled it in to the garage and I gave it a bit of TLC with a brush. It was quite easy to get rid of all the rust.
Here's a photo of the servomotors: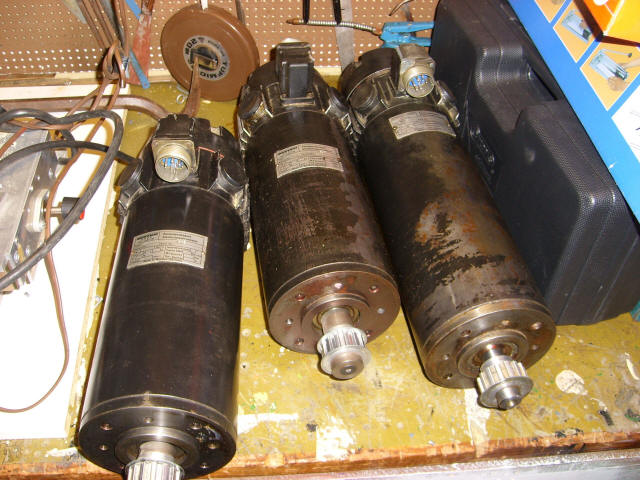 These are some very nice Indramat PMDC-motors. The largest one, for the Z-axis, has an integrated break, is rated at 24A continous, 200A peak current and weighs in at 29kg. At 24A it develops just over 11Nm of torque - no toys in other words.
The last photo in this section shows what the electrical system looked like when I got the machine: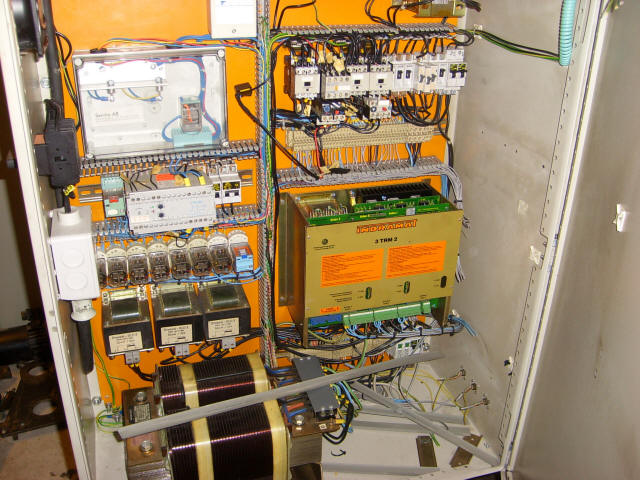 The old Indramat SCR servo-amplifiers with its HUGE transformer. At first the idea was to keep this and interface the amps to Mach3 via the Pixie S/D->analog converters but by the time I actually got to that part of the project the Pixie's where no longer available. That sent me off on a tangent for quite some time in order to find a set of servo-drives that would run my motors, but more about that later.